As of March 2021, COVID-19 has affected over 200,000 kids in South Asia, as reported by UNICEF5. With unprecedented efforts, the COVID-19 vaccination was finally authorized in adults and the healthy elderly. However, COVID-19 vaccination in kids was still delayed.

How would it be possible for the world to socially and economically recover from this pandemic when the COVID-19 vaccination for kids – the pillars of the future – are neglected?

More recently, a piece of great news was announced, where Pfizer and its partner BioNTech is preparing to vaccinate kids aged between 12 to 15 years by the second week of May 20216. The vaccine was clinically found safe, effective and robust enough to trigger antibody production within that age bracket. This is a highly crucial step in turning back the pandemic to get under control.

In the following paragraphs, we'll understand why it is important to vaccinate kids, why the adults' vaccine comes first and the potential benefits derived from vaccination.
READ ALSO: A Guide To The COVID-19 Vaccines

The Importance of Developing COVID-19 Vaccine for Kids
Kids of all ages are still at risk for COVID-19 exposure. Although they show a milder disease presentation or even no symptoms at all compared to adults, their role in virus transmission to others cannot be neglected7.

A study conducted by researchers from the US and India has shown that older children and adolescents are potential transmitters of the SARS-CoV-2 virus4. This means that they have a higher chance of transmitting and catching coronavirus from people of their age bracket, especially within an indoor setting.

In order to ensure our kids return to their normal lifestyle, breaking the COVID-19 transmission chain within communities is in urgent need. Therefore, the demand for an effective kids' vaccine is extremely important.
Potential Benefits from COVID-19 vaccination
Vaccination provokes kids' immune systems to produce antibodies to fight against pathogens like coronavirus during future infection. As a result, kids will receive individual health benefits from vaccination and potentially confer societal benefits as shown below: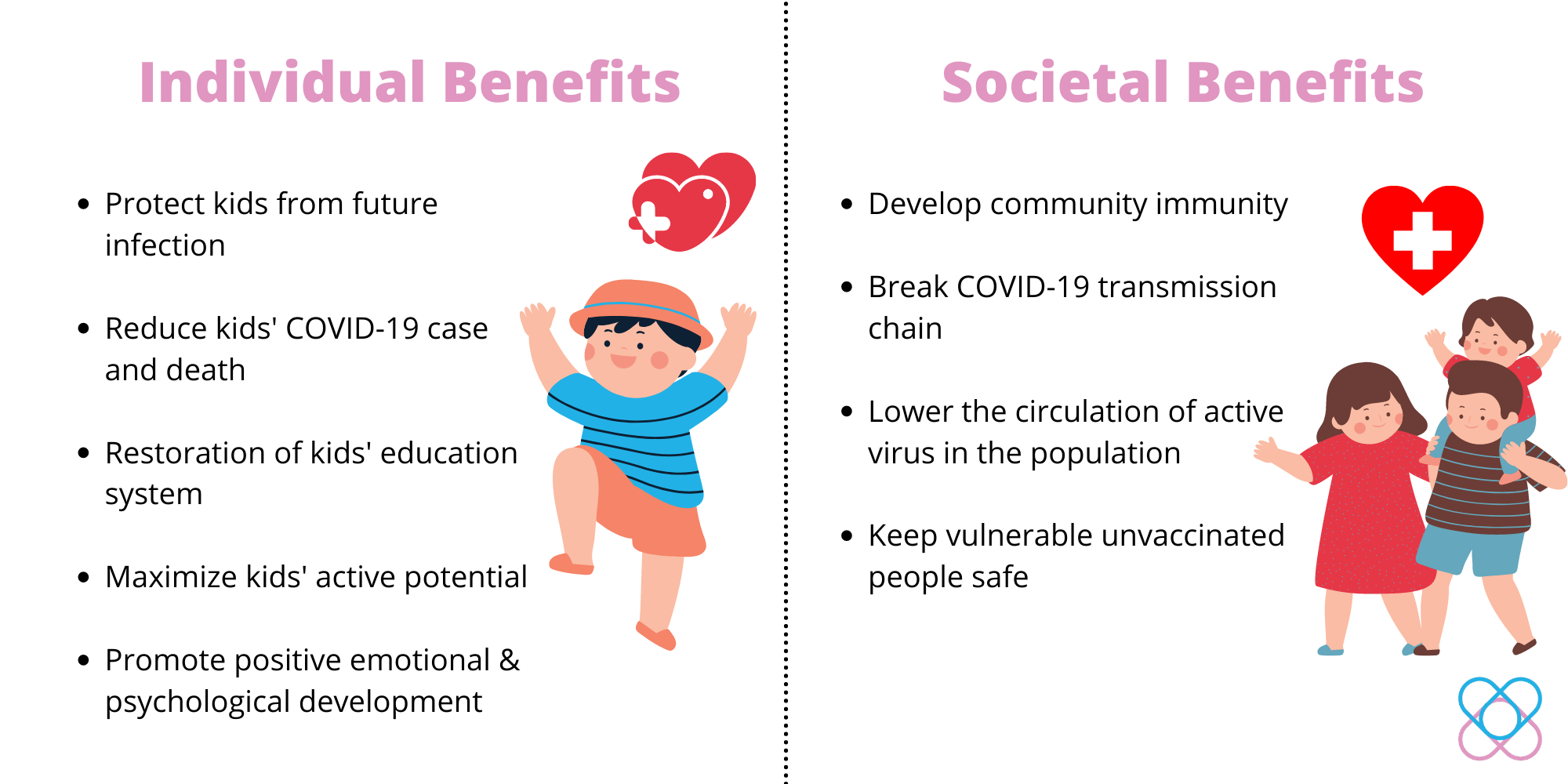 Why are children's vaccines developed after adult trials?
COVID-19 vaccination for adults has been implemented while clinical trials for kids' vaccines just began. There are several factors that cause such a delay in kids' vaccines development, for instance:
Uncertain health risk
Early vaccination based on adults' trial results could expose kids to uncertain health risks. This is because adults' vaccines have not been clinically tested on kids. Moreover, kids' immune reaction against COVID-19 varies greatly depending on age.

As compared to adults, children may require a different dosage of vaccine to stimulate immunogenicity against COVID-19. As of now, the right dosage for children is still a question that needs to be answered.

In order to identify the right dosage, kids' vaccine development requires extensive research to confirm that the potential benefits outweigh the vaccination risks. Hence, the safest way of doing this is developing a kid's vaccine after the safety and efficacy are evidenced in the adult version2.
Robust Immune reaction
Kids tend to:
Have a relatively lower susceptibility to SARS-Cov-2 infection due to robust immune response7.
Have a stronger innate and trained immune reaction to produce sufficient antibodies during virus infection9.
Develop milder symptoms or no symptoms at all
Get well sooner when they get sick.
Adults tend to:
Have a greater prevalence in developing severe symptoms presentation that cannot be seen in children.
Hence, the need for kids' COVID-19 vaccination is not urgently recognized as compared to healthcare personnel, adult workers, and the elderly high-risk group with underlying health concerns.
Safety and Right Protection
The development of vaccines is a matter of right protection, safety, and ethics when it involves humankind2.

As we all know, kids are a vulnerable population. This is due to their limited capacity to make the right decision and provide informed consent on their own. Therefore, they are less capable of protecting themselves from vaccination's unknown risks.

To protect the right and safety of kids, vaccine trials in kids generally require consent from parents or legal guidance, which eventually delay the development process compared to the adult version.
What can parents do in the meantime to protect kids from COVID-19?
During the course of kids' vaccine development, parents should always be calm and communicate optimistically with their kids. In other words, parents need to reassure that kids are understandable and well informed about all the facts of COVID-19 and appropriate preventive measures: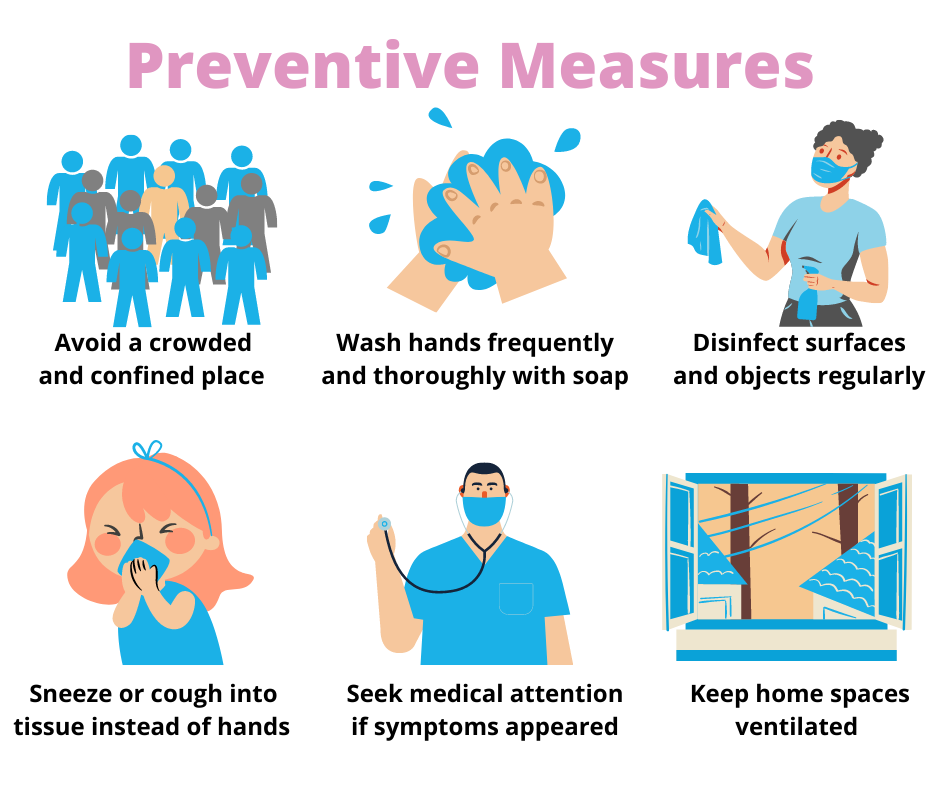 The practice of appropriate safety preventive measures can greatly reduce kids' COVID-19 cases when it comes with wise parental guidance:
Avoid kids from crowded and confined places, especially when they are sick.
Teach kids to wash their hands thoroughly and frequently using soap or hand sanitisers.
Disinfect surfaces and objects regularly that are easily accessible to kids such as toys, chairs, tables, etc.
Teach kids to sneeze or cough into a tissue instead of hands.
Seek medical attention immediately when symptoms appeared in kids.
Keep the spaces at home well ventilated especially when coming back from outside.


As the saying goes, "prevention is better than cure". Parents play a vital role in demonstrating these safety preventive measures are indeed fundamental and essential factors in curbing the spread of COVID-19 in kids' populations.
---
Looking to get a COVID-19 test? Visit the COVID-19 test directory at FindMyTest for all the information you need!

You can also discover your genetic risk in COVID-19 infection risk and severity potential with Project CoviDNA.
References

1. Anderson, E.J., Campbell, J.D., Creech, C.B., Frenck, R., Kamidani, S., Munoz, F.M., Nachman, S., and Spearman, P. (2020). Warp speed for COVID-19 vaccines: why are children stuck in neutral?. Clinical infectious diseases: an official publication of the Infectious Diseases Society of America.

2. Gill, D. (2004). Ethical principles and operational guidelines for good clinical practice in pediatric research. Recommendations of the Ethics Working Group of the Confederation of European Specialists in Paediatrics (CESP). European journal of pediatrics, 163(2), 53-57.

3. Laxminarayan, R., Wahl, B., Dudala, S.R., Gopal, K., Neelima, S., Reddy, K.J., Radhakrishnan, J., and Lewnard, J.A. (2020). Epidemiology and transmission dynamics of COVID-19 in two Indian states. Science, 370(6517), 691-697.

4. Opel DJ, Diekema DS, Ross LF . (2021). Should we mandate a COVID-19 vaccine for children?. JAMA pediatrics, 175(2), 125-126.

5. UNICEF, UNFPA, WHO, and SickKids' Center for Global Child Health. (2021). Direct and indirect effects of COVID-19 pandemic and response in South Asia. Retrieved 5th April 2021, from https://www.unicef.org/rosa/reports/direct-and-indirect-effects-covid-19-pandemic-and-response-south-asia

6. US FDA set to authorize Pfizer COVID-19 shot for ages 12-15 early next week. (2021, May 4) TheStar. Retrieved from https://www.thestar.com.my/business/business-news/2021/05/04/us-fda-set-to-authorize-pfizer-covid-19-shot-for-ages-12-15-early-next-week

7. Viner, R.M., Mytton, O.T., Bonell, C., Melendez-Torres, G.J., Ward, J., Hudson, L., Waddington, C., Thomas, J., Russell, S., Van Der Klis, F., and Koirala, A. (2021). Susceptibility to SARS-CoV-2 infection among children and adolescents compared with adults: a systematic review and meta-analysis. JAMA pediatrics, 175(2), 143-156.

8. Zimet GD, Silverman RD, Fortenberry JD. (2021). Coronavirus Disease 2019 and Vaccination of Children and Adolescents: Prospects and Challenges. The Journal of pediatrics, 231, 254-258.

9. Zimmermann, P., & Curtis, N. (2020). Why is COVID-19 less severe in children? A review of the proposed mechanisms underlying the age-related difference in the severity of SARS-CoV-2 infections. Archives of Disease in Childhood.