The Holy month of Ramadan is finally here! It is an auspicious festival for millions of Muslims worldwide to celebrate through dawn to dusk fasting, religious gatherings for breaking fast, and prayer to the Almighty for self-reflection. However, most Muslims can only celebrate this Islamic holy festival under a movement control order due to the COVID-19 pandemic. This restriction introduces a new degree of challenge to this tough but spiritually rewarding month.

We can still celebrate Ramadan ritually and safely if we practice the precautious safety tips. If you are one of the million Muslims celebrating this auspicious festival, this article will definitely give you some helpful tips to ensure your safety throughout the blessed Ramadan.
READ ALSO: Good Fasting Tips
Individual Safety Tips
No matter where you are or how safe you feel, there are no absolute zero risks from getting the COVID-19 infection, especially during a festival season. However, you can manage the risk to a minimum level, protect yourself and others by complying with the following individual safety tips6:
Physical Distancing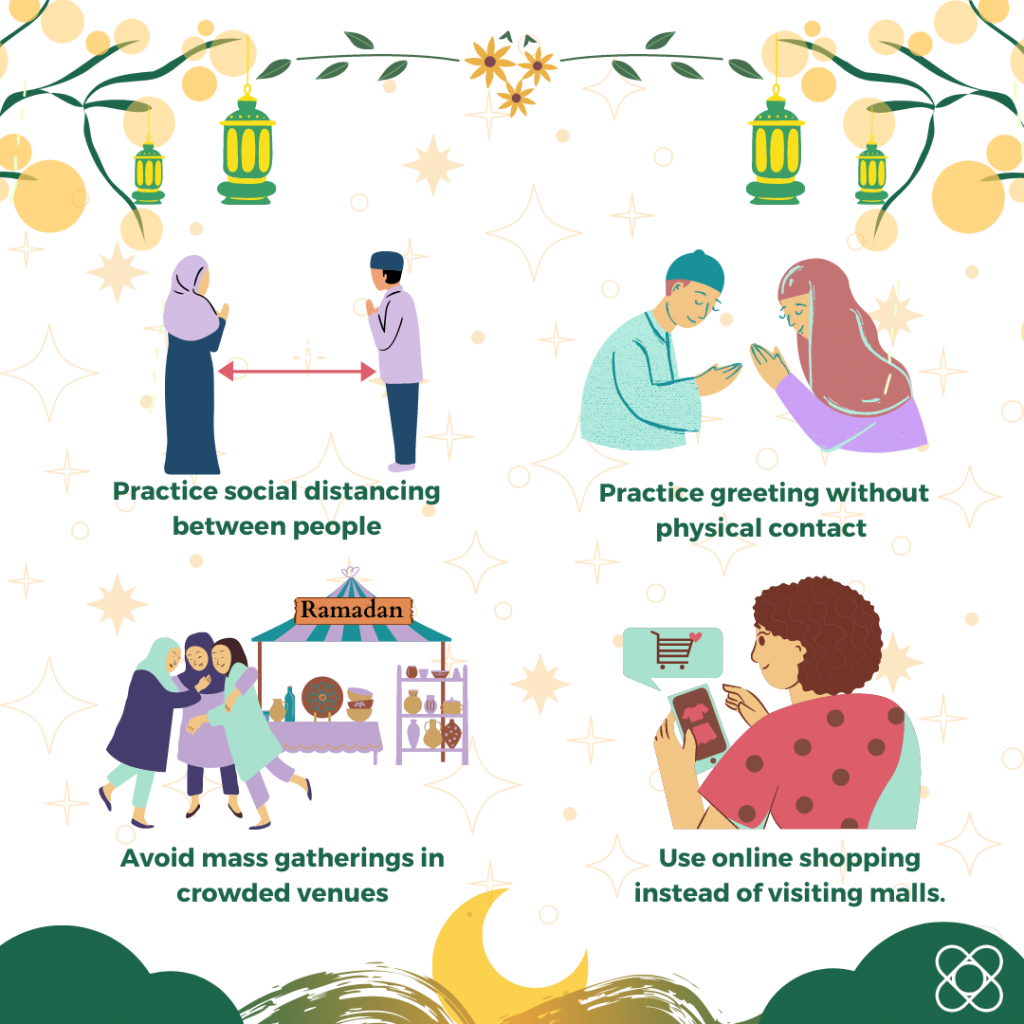 Physical distancing can greatly reduce the transmission of COVID-19. Protect yourself and others by:
Practicing social distancing for at least 1 meter between people.
Practicing religiously accepted greetings without physical contacts, such as waving or nodding.
Avoiding mass gatherings in venues associated with Ramadan activities, such as bazaar Ramadan and shopping malls.
Using online shopping and limit your visit to shopping malls during Ramadan.
Personal Hygiene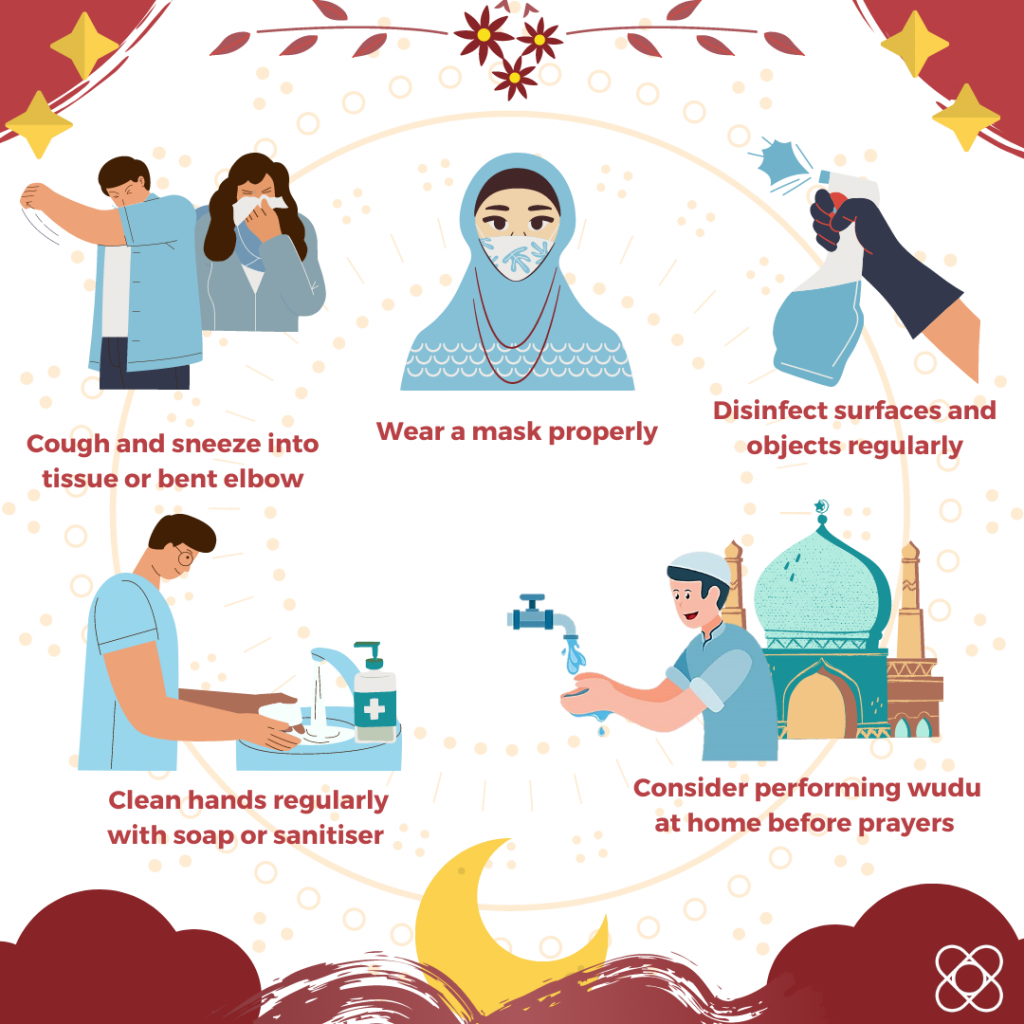 Good personal hygiene is the most basic yet powerful safety tip that needs to be practiced to save lives and combat COVID-19:
Cough and sneeze into a bent elbow or tissue instead of hands.
Wear a mask properly.
Disinfect often-touched objects and surfaces frequently, such as personal prayer rugs.
Clean your hands regularly with soap or alcohol-based hand sanitiser (at least 80% ethanol or 75% isopropyl alcohol).
You are highly encouraged to perform wudu (ablution) at home before prayers.
Vulnerable groups
Elderly and people with health comorbidities such as hypertension, diabetes and lung disease that affect their immune system are more vulnerable to COVID-19 infection. Children and young adolescents have also been recognized as potential transmitters of the SARS-CoV-2 virus3.

Therefore, it is indeed important for them to practice the safety tips which can protect themselves from infection and prevent the spread of the virus during this auspicious Ramadan month:
Avoid attending any social and religious events if symptoms of COVID-19 are observed.
Seek medical attention if symptoms persist for days.
Urge the elderly or any people with medical conditions not to attend any events or gatherings during Ramadan1.
Risk Assessment for Religious Gathering
Evaluation of risk factors is mandatory if you organize a small gathering or event during Ramadan, such as prayers and breaking fast in a group. The factors required to be taken into consideration include7: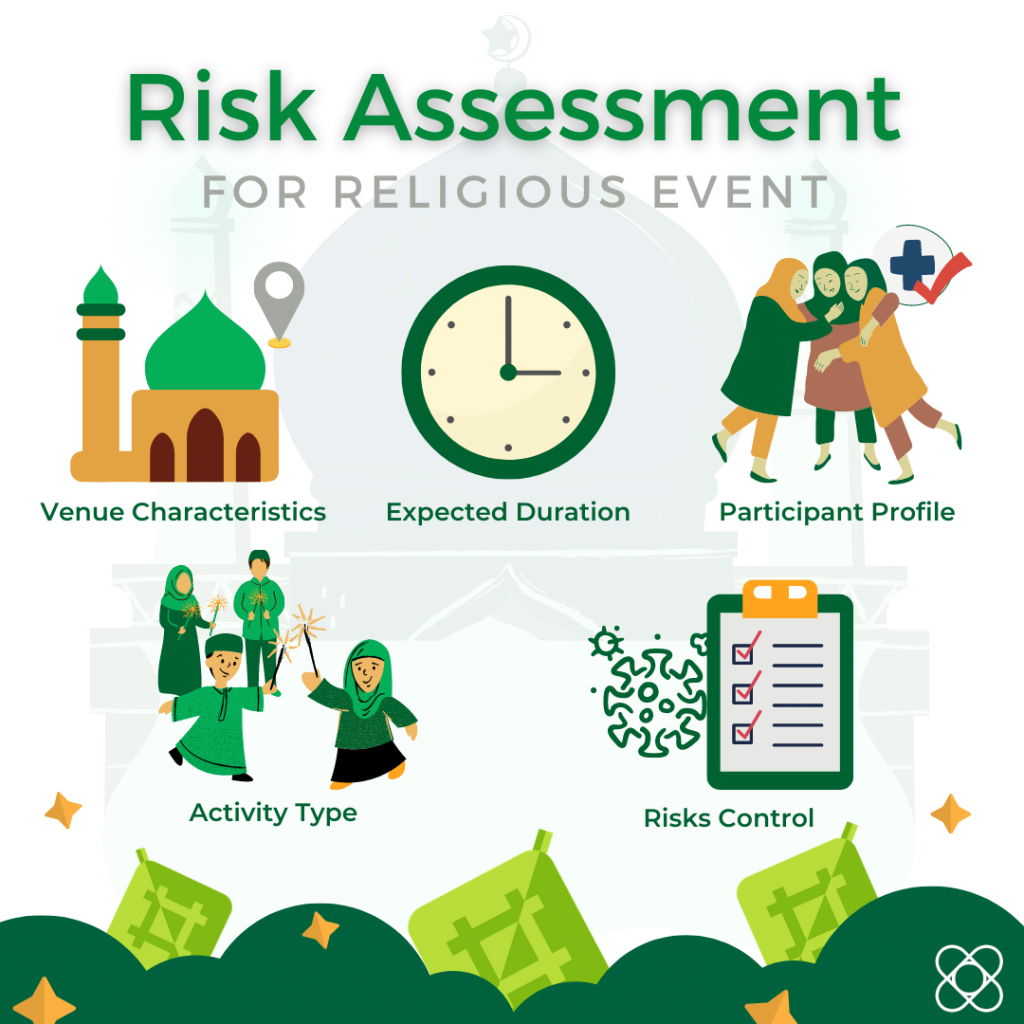 Risk assessment is fundamental in identifying all the potential risks that may derive from organising a religious event during Ramadan. This can help the organiser to take appropriate safety measures that mitigate the risk of COVID-19 transmission:
Venue characteristics (e.g. location, size, indoor or outdoor, and participants density).
Participant profile (e.g. health condition, age, and travel status).
Activity type (e.g. the closeness of contact and the physical distance between people).
Expected duration (e.g. minimize the duration spent indoors).
Risk management (e.g. the capability of the government's health system to capture the cases).
Communal Safety Tips Related to Religious Gathering
The following precautions are applied to a small gathering and religious event during Ramadan to minimize the chances of spreading the virus2,4.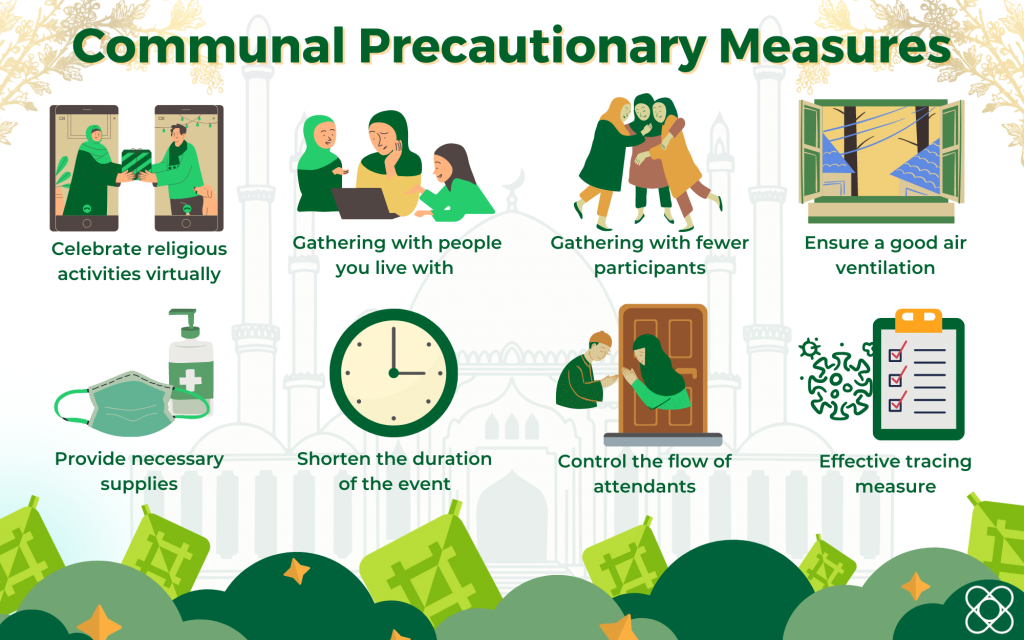 Compliance with the following gathering-related precautionary measures can help to decrease the chance of spreading COVID-19 and protect the attendants:
Celebrate social and religious activities virtually.
Consider gathering with people you already live with.
Organize smaller events with fewer participants.
Ensure good air ventilation indoors; otherwise, an outdoor gathering is advisable4.
Provide all necessary supplies in the gathering (e.g. hand sanitisers, masks, and distance markers).
Shorten the duration of the event as much as possible.
Control the flow of people attending the event.
Consider an effective tracing measure if an infected person is identified among the participants.
Vaccination and Ramadan
If COVID-19 vaccination is offered during the holy month of Ramadan, eligible individuals are advised to receive the vaccine injection as arranged by the government. This is because the COVID-19 vaccination not only can protect the vaccinated individual but also the unvaccinated vulnerable groups.

According to the Islamic Shariah law, COVID-19 vaccination during Ramadan is a legitimate act and will not discredit the fast.

For vaccinated individuals, it is encouraged to continue taking personal health and social preventive measures to protect others from possible infection.
Spiritual Support
Ramadan is a holy month where Muslims connect more genuinely with the Almighty and engage more deeply in self-reflection. This can help them to fully benefit invaluable faith from the blessings and wisdom of Ramadan.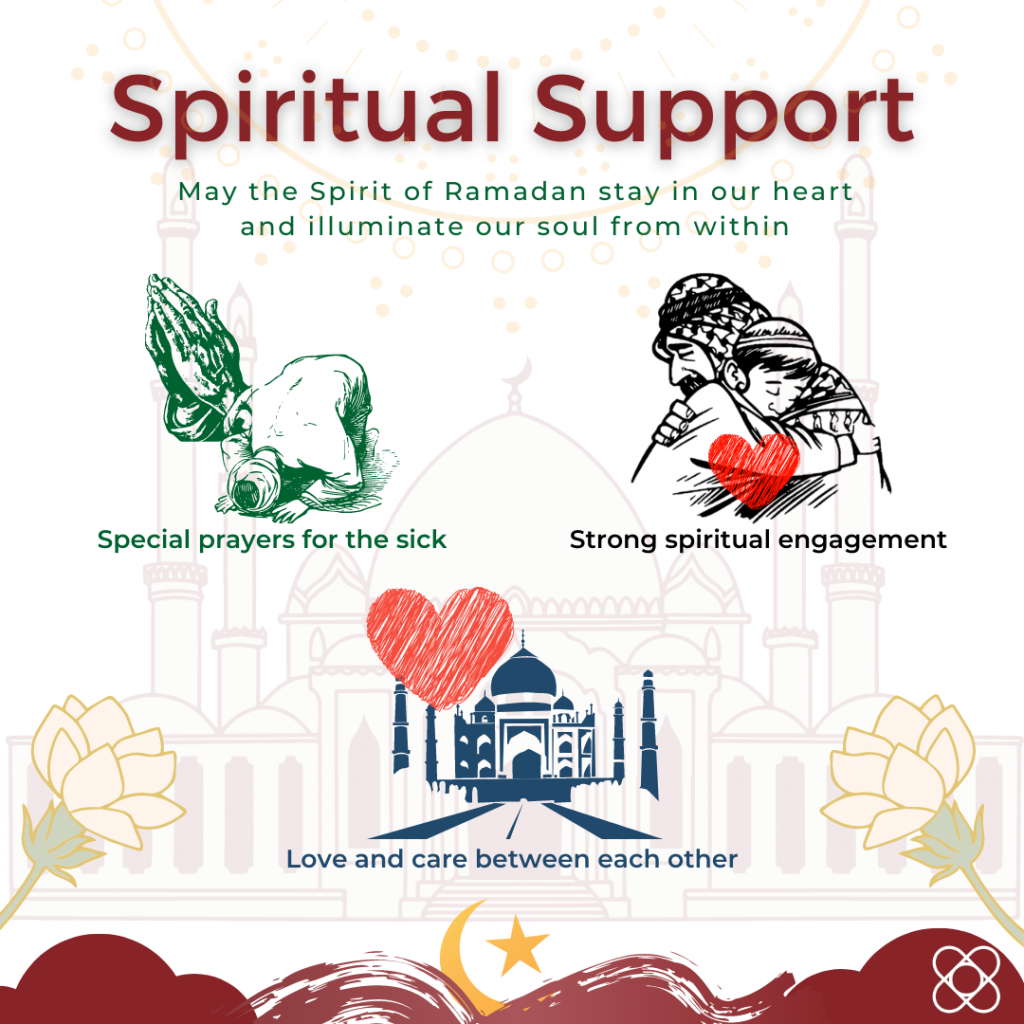 Religious faith can be a source of support, comfort, and guidance that keep the spirit of Ramadan alive during COVID-19:
Practice special prayers for the sick associated with strong hope and comfort.
Share your love and care for the vulnerable groups.
Ensure that family and friends are still spiritually engaged despite physical distancing.
The auspicious month of Ramadan is full of celebrations and happiness. However, it is imperative to celebrate the festival with perpetual vigilance and strong religious faith to avoid the spread of COVID-19 while maintaining the spirit of Ramadan.
Are you looking for a COVID-19 test? Visit the COVID-19 test directory at FindMyTest for all the information you need!

You can also discover your genetic predisposition in COVID-19 infection risk and severity potential with Project CoviDNA.
References

1. COVID-19 clinical management: living guidance 25 January 2021. Geneva: World Health Organization; 2021. https://apps.who.int/iris/handle/10665/338882

2. Key planning recommendations for mass gatherings in the context of COVID-19. Interim guidance 29 May 2020. Geneva: World Health Organization; 2020. https://apps.who.int/iris/handle/10665/332235

3. Laxminarayan, R., Wahl, B., Dudala, S.R., Gopal, K., Neelima, S., Reddy, K.J., Radhakrishnan, J., and Lewnard, J.A. (2020). Epidemiology and transmission dynamics of COVID-19 in two Indian states. Science, 370(6517), 691-697.

4. Practical considerations and recommendations for religious leaders and faith-based communities in the context of COVID-19. Interim guidance 7 April 2020. Geneva: World Health Organization; 2020. https://apps.who.int/iris/handle/10665/331707

5. Roadmap to improve and ensure good indoor ventilation in the context of COVID-19. 1 March 2021. Geneva: World Health Organization; 2021. https://apps.who.int/iris/handle/10665/339857

6. Safe Ramadan practices in the context of the COVID-19. Interim guidance, 15 April 2020. Geneva: World Health Organization; 2020. https://apps.who.int/iris/handle/10665/331767

7. Technical specifications of personal protective equipment for COVID-19. Interim guidance 13 November 2020. Geneva: World Health Organization; 2020. https://apps.who.int/iris/handle/10665/336622