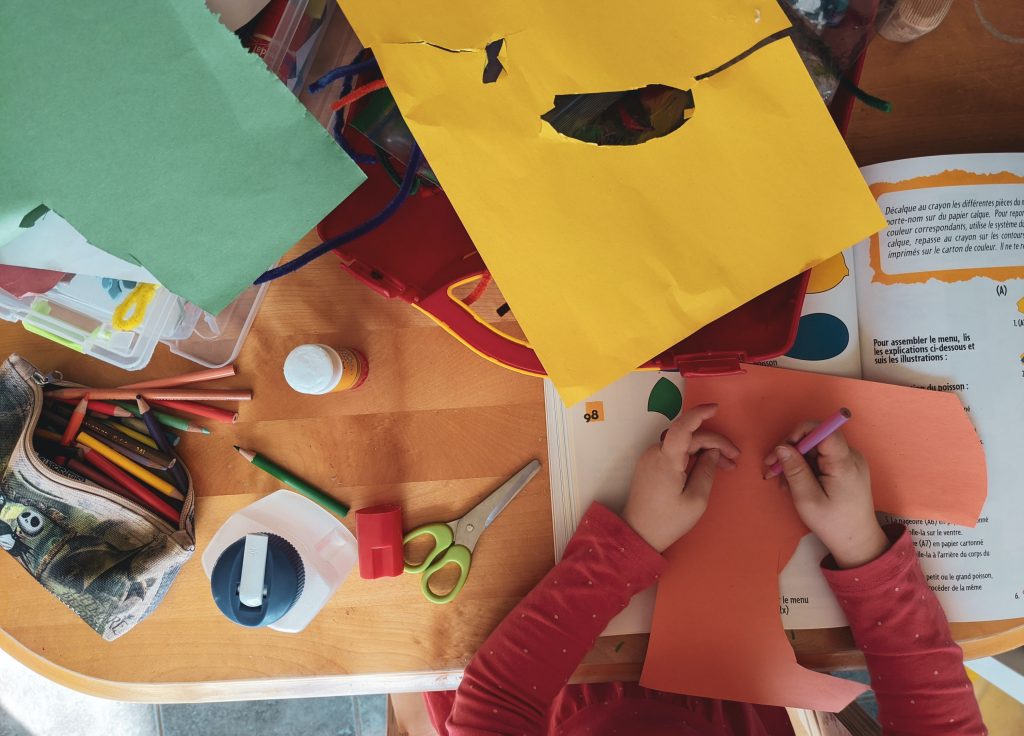 In its 4-week run, the second Movement Control Order (MCO 2.0) has affected every Malaysian of all backgrounds. With schools shut down for most of 2020, the shift to online classes has been set in stone for most students. Having all classes online with no certain date of returning to face-to-face classes has brought up many concerns, especially for those with learning disabilities such as autism.
READ ALSO: A Guide To The COVID-19 Vaccine
Students have not been able to interact with their friends and feel unmotivated to continue online studies. Parents of these students not only have to adjust to working from home but also have to juggle supervising their kids' online lessons; these difficult conditions are amplified even more in families of children with learning disabilities.
Children with conditions like Autism Spectrum Disorder (ASD) are heavily affected by the limitations of the MCO, as are their caregivers. It is important that we understand their struggles to help support these special groups in any way we can.
Autism Spectrum Disorder in children
Autism Spectrum Disorder (ASD) is a developmental condition that appears early in childhood. People with the condition usually present struggles with communication, impaired social skills, and repetitive behaviours. The extent of the traits can vary between people. People with ASD learn and interact differently compared to those without the condition. They also have an increased risk of being diagnosed with other psychiatric conditions, e.g. anxiety and depression.
Behavioural traits tied to ASD can differ from person to person, but some of the more common features include trouble adjusting to new circumstances and issues expressing needs using typical communication.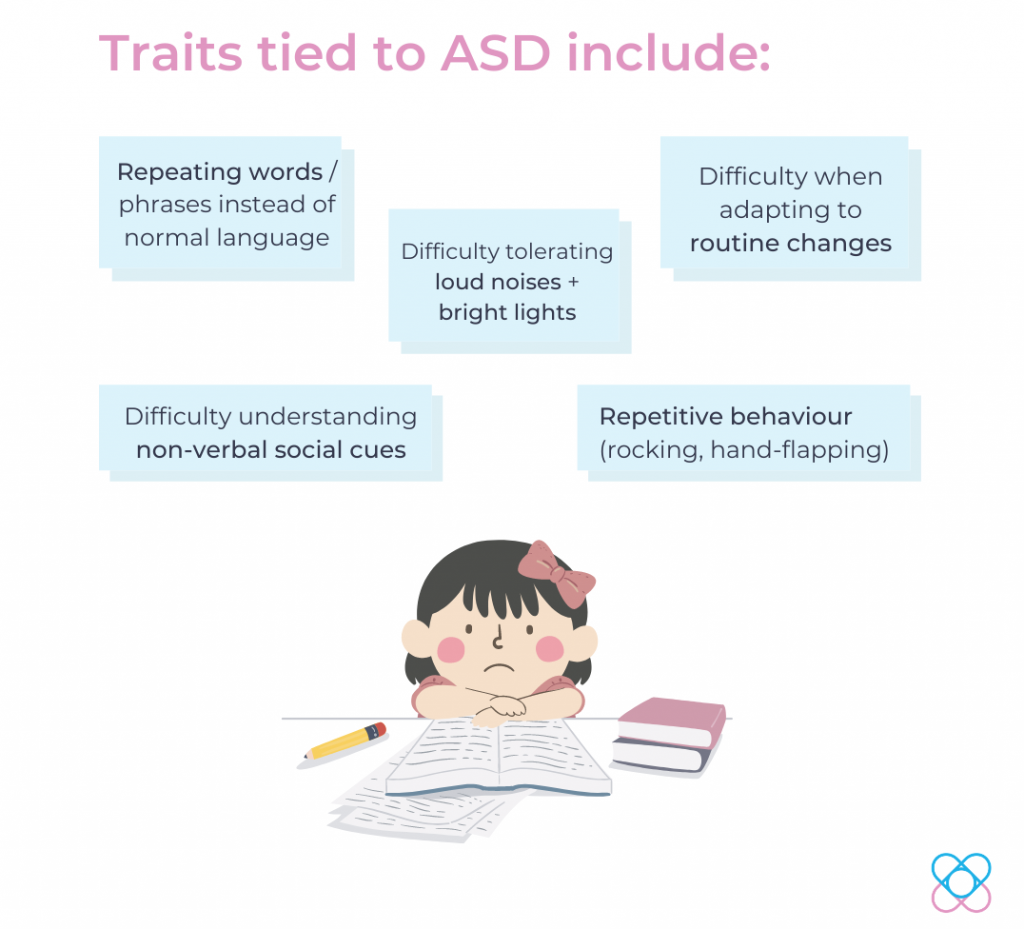 Inheritance of ASD
The exact inheritance patterns of ASD are still unknown, although usually there is a tendency for the condition to run in families. Variations in genes usually combine with multiple environmental risk factors, and this combination determines the person's risk of developing ASD.
Non-Genetic Factors
Non-genetic factors actually make up about 40% of ASD risk. This includes older parental age, birth complications, and prescription drug consumption during pregnancy.
Genetic Variants
More than 1000 genetic variants have been thought to affect the risk of developing ASD, however not all people with the variant will be affected. Because of this, researchers are unable to pinpoint a specific gene that outright causes ASD. Despite this variability, ASD's effect on brain development can be shown in specific brain regions.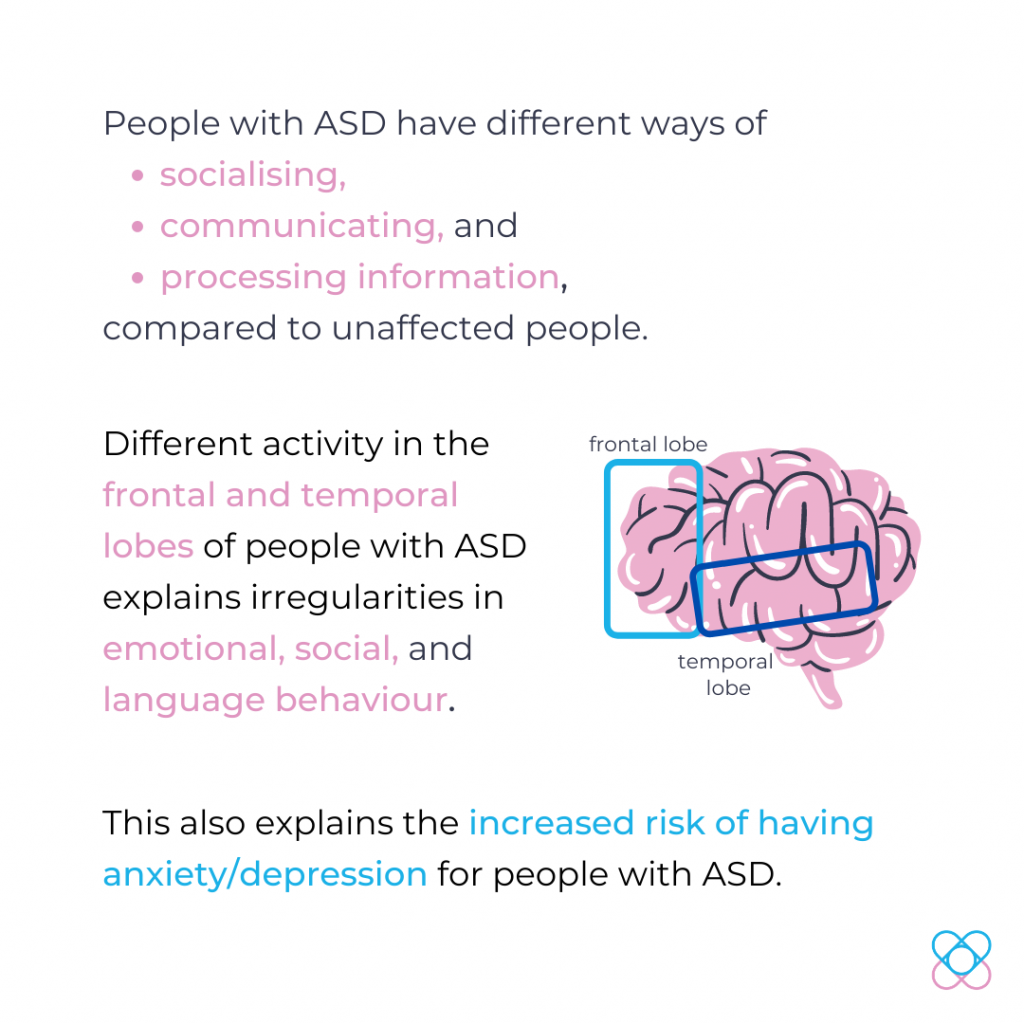 MCO and mental health decline
About 30% of people with ASD are clinically diagnosed with either anxiety or depressive disorder. Therefore, the uncertainty of MCO and the pandemic have increased the risk of developing mental health conditions even for those without previous clinical diagnoses.
Broken routine for those with Autism
For people with ASD, a set routine is the main form of stability in their otherwise turbulent day. With restrictions on leaving the house and strict social distancing SOP, people with ASD are unable to carry out their daily routines of going to school/work. This has caused an increase in uncontrollable behaviour, including tantrum-throwing and self-harm.
Distanced from professional help
In terms of seeking professional help, weekly therapy sessions usually carried out at schools are unable to continue during the lockdown. This affects students with ASD, as they're unable to interact with others who can understand their struggles and communicate in similar ways. This also affects the caregivers of these students, as they're unable to consult professionals or other caregivers who understand their situation.
Struggle of caregivers
Caregivers of these families also have to worry about the worsening poverty rate, with about 70% of all inner-city families struggling to meet basic living expenses during the pandemic. Additionally, the combination of having to work from home, supervise online lessons for their kids, and pacifying those with learning disabilities causes an incredible amount of stress. This can lead to detrimental health effects for the caregivers, who have no choice but to deal with the digital and economic disparity.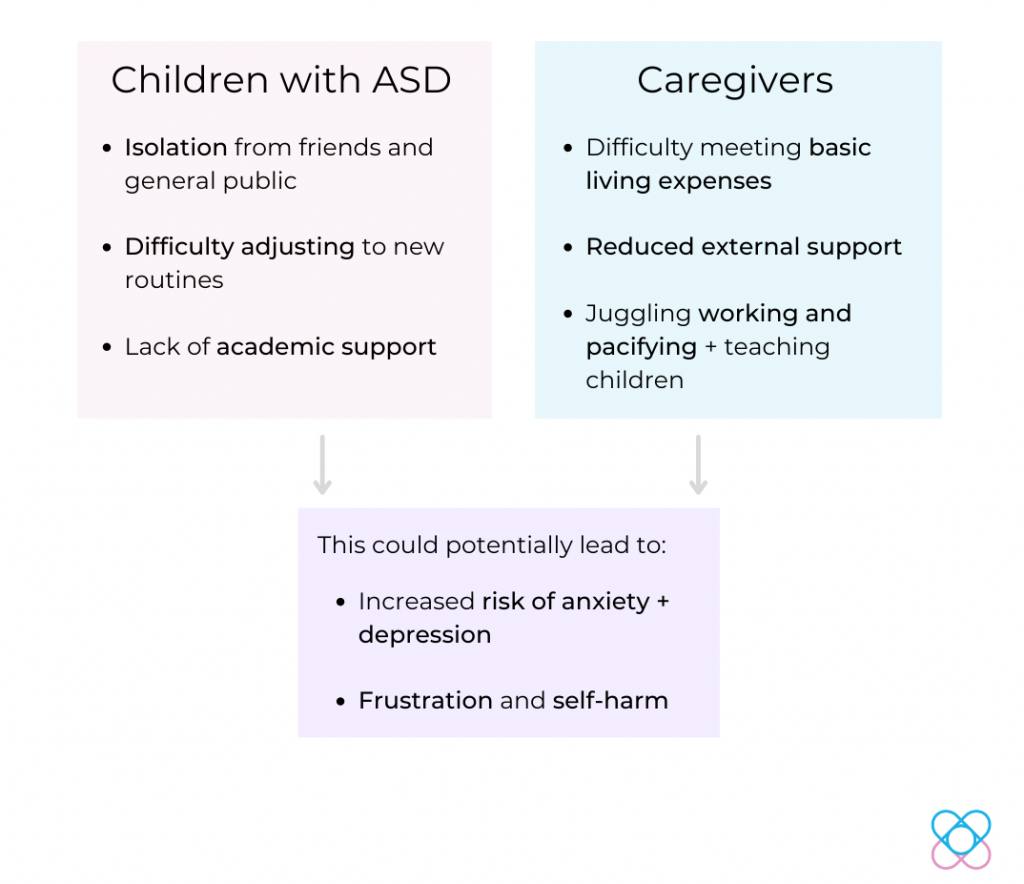 Helpful resources and support
Online therapy
One of the major issues that families of children with ASD face is the lack of professional support. Fortunately, many local NGOs catering towards people with ASD have come up with useful resources for these parents. Programs such as virtual learning and pre-made educational plans have been made for the parents' convenience. Most family therapists have also transitioned to online therapy sessions, so it's an option worth checking with your usual therapist.
Establishing new routines
In order to prevent children with ASD from feeling neglected, parents are encouraged to form new routines to stabilise their daily schedules. Planning breaks with activities that the child enjoys (e.g. playing the piano, building lego) also allows breaks for the caregiver, ensuring the parent doesn't burn out throughout MCO.
Online learning
In terms of academic support, free online resources such as Youtube or Khan Academy can be useful. These videos are usually bite-sized and can help make the homeschooling manageable for children with ASD. Alternatively, activities like cooking and gardening can also be useful learning experiences. This way, children with ASD are able to learn in more fruitful ways than sitting down and reading passively.
---
Want to know more? Tune in to Episode 3 of Health Huddle with Ms. Sam Jeng Mun as we discuss about Children With Learning Difficulties At Home In The Time of COVID-19!
References


1. Autism at Home – Online Resource For Autism. Autismmalaysia.com. (2021). Retrieved 1 February 2021, from https://www.autismmalaysia.com/autismathome/.

2. Autism spectrum disorder: MedlinePlus Genetics. Medlineplus.gov. Retrieved 1 February 2021, from https://medlineplus.gov/genetics/condition/autism-spectrum-disorder/.

3. Basics About Autism Spectrum Disorder (ASD) | NCBDDD | CDC. Centers for Disease Control and Prevention. (2020). Retrieved 1 February 2021, from https://www.cdc.gov/ncbddd/autism/facts.html.

4. Hisamudin, H. (2020). Tantrums and meltdowns: MCO takes heavy toll on autistic children. Free Malaysia Today (FMT). Retrieved 1 February 2021, from https://www.freemalaysiatoday.com/category/nation/2020/04/02/tantrums-and-meltdowns-mco-takes-heavy-toll-on-autistic-children/.

5. HSS, A. (2021). Impact of Covid-19 on children. Free Malaysia Today (FMT). Retrieved 1 February 2021, from https://www.freemalaysiatoday.com/category/highlight/2021/01/08/impact-of-covid-19-on-children/.

6. Patel, J., Badiani, A., Nielsen, F., Assi, S., Unadkat, V., & Patel, B. et al. (2020). COVID-19 and autism: Uncertainty, distress and feeling forgotten. Public Health In Practice, 1, 100034. https://doi.org/10.1016/j.puhip.2020.100034

7. Vibert, B. (2019). Supporting Children With Autism During the Coronavirus Outbreak | Child Mind Institute. Child Mind Institute. Retrieved 1 February 2021, from https://childmind.org/article/supporting-children-with-autism-during-the-coronavirus-outbreak/.

8. Virtual Learning – ALRITE Autism Centre Malaysia. ALRITE Autism Centre Malaysia. (2021). Retrieved 1 February 2021, from https://www.alriteautism.com/virtual-learning/.

9. Zeliadt, N. (2020). Autism genetics, explained. Spectrum | Autism Research News. Retrieved 1 February 2021, from https://www.spectrumnews.org/news/autism-genetics-explained/.